Prism Powder Coating is a full service Powder Coating Company.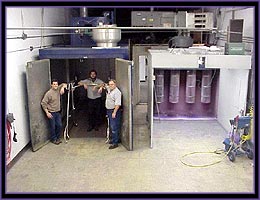 With a single well equipped state of the art facility that helps keep control of all of our processes, allowing us to keep total control over valuable parts, therefore, producing the highest quality powder coating available in the industry.

We have learned, by listening to our customers and working to educate our customers, that we have achieved total customer satisfaction. We pride ourselves in our ability to complete all of our customers jobs as if they were our own product, after all it is the finish that is seen first!

What We Offer: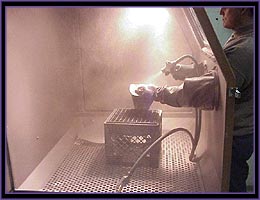 We are a full service Powder Coating Company offering
1 Large batch gas convection baking ovens. 22d x 6w x 7.6h
In-house media blasting
Glass bead / Aluminum oxide / white silica.


We provide Cabinet washing for processing small to medium parts.
All of our systems are setup to provide alkaline wash/ phosphate/ non-chrome seal rinses if required.
We also have 2 walk-in state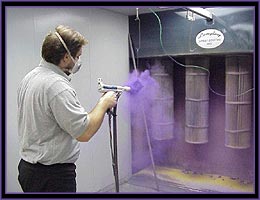 of the art HEPA filtered spray booths which filter our discharge air to a 99.9% efficiency making us and our facilities an environmentally friendly company.

We have 5 Corona and tribo charging powder coating gun systems. This provides redundant backup, and allows us to spray multiple colors and products.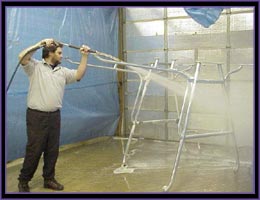 2 state of the art environmentally friendly heated spray wand washing systems that are designed for large object pretreatment as well as small pieces prior to powder coating.
Specialized Services:
Plugging and masking of specific areas.
Custom powder colors made to your specifications (minimums required).
Over 3000 already made colors available for order.
Polishing of parts.
Welding - Tig/Mig.--stainless/ aluminum/ steel.
Machine shop work available.